Healthy Work Environment
The API aims to do world-leading astronomical research, with integrity and in a safe and inclusive work environment. We continuously strive for this through the actions of our community, by creating awareness and aiming to prevent issues, and by addressing any issues in a professional manner.
This leaflet summarizes the actions that API takes to create awareness and prevention of undesirable behaviour, and various possible points of contact in case you would like to raise or discuss any possible issues.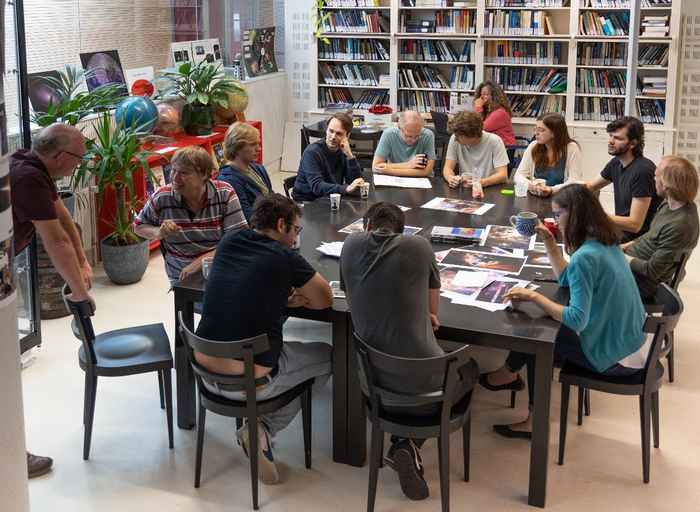 Routine

Wednesday mornings at 'info coffee', the director informs everyone of important events, guest visits or business pertaining to API, after which the floor is open to other announcements from anyone present. It is followed by the institute colloquium, usually given by an external speaker.

Thursday Pizza Lunches, another API tradition, feature an informal talk, this time by an API PhD or Postdoc, as well as time to discuss recent science news and research pitches. The session is concluded with pizza for everyone.

Friday afternoons, the week winds down with a borrel - an informal gathering with drinks and snacks
Committees and regular meetings

Staff meetings are held monthly basis, at which time formal API business is discussed. The PhD/PD council are also in attendance.

PhD and Postdoc council meet monthly to address issues from API PhDs and Postdocs as well as act as the primary contact person for API PhDs and Postdocs. They meet with the institute director every two weeks to discuss matters of importance for the community.

Equity, Diversity, and InclusionCommittee meet bi-weekly with a mandate to serve as a resource to students and staff on all matters related to diversity, equity and inclusion

Management team, a group of experienced scientists, meet regularly with the director to act as sounding boards and council

The newly formed sustainability committee meets infrequently and functions within a larger national initiative

With work-from-home having become the norm for the institute in 2020/2021, the need to create a social committee became apparent. This is a work in progress
Other events

We make sure to balance work with fun at the API.
At any given time throughout the year, there are loads of impromtu casual gatherings, but also official sports teams to join, pub quizzes, PhD defences and many, many borrels.

We also make sure to get out of the building once per year and spend a fun day together at our API outing and our Christmas parties are a notoriously good time!